Virtual office spaces allow you to maintain a business address and grow your reach in a new location while also enjoying schedule flexibility and a minimized commute. These virtual office spaces from PS Executive Centers are offered by the hour or month, benefiting new entrepreneurs and established professionals alike.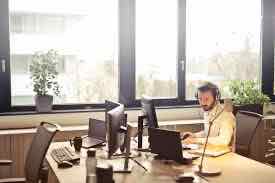 Co-Working Space
Price Varies by Location. Click for Details.
Desk in coworking office
Mon – Fri, 8 – 5
Business address
Receptionist to greet your guests
Secure high-speed internet
Complimentary hot beverage service
Access to meeting room
Enjoy all the benefits of a personal, on-site receptionist at a fraction of the cost. We'll answer your phone with your custom greeting, then screen, announce and seamlessly transfer your calls to your mobile phone.
You can save you time and money by working from home, but listing your home address on your website can look unprofessional. Our Business Address offers you a corporate mailing address, secure mail receiving and forwarding services, preferred rates on courier services and beautiful reception area with receptionist.
How does a virtual office work?
With a virtual office space, you'll have a physical address associated with your company, but at a significantly reduced rate. You can work from anywhere and only come to your private office when necessary. At the same time, you'll still have the benefits of a traditional professional environment, including mailing services and a virtual receptionist to answer phones. Our facilities are expansive, allowing you to access meeting rooms or host video conferencing calls when you need them.
Who answers my business calls?
Starting at $129/mo, you'll have access to an experienced virtual receptionist from PS Executive Centers. They'll set up a private voice mailbox for you and screen calls as they come in. Our receptionists answer calls in your company's name and transfer them to your phone as seamlessly as they would in a traditional physical office setting.
Can I have packages sent to the business address?
Our clients are given a unique physical address for receiving mail and packages. It can also be used for letterheads and business cards, adding to the professionalism of your business. Over the years, PS Executive Centers has established and maintained relationships with many courier services, allowing us to offer preferred rates when you need items forwarded.
The business address also provides access to our meeting rooms when you need space for in-person engagements. We have in-person receptionists who will greet your visitors and offer complimentary hot beverages to make them feel welcome.
Is internet included in office spaces?
Office spaces include secure high-speed internet access along with private desks. They're perfect for new entrepreneurs, along with professionals who are more productive in a traditional work environment.
When are office spaces available?
Our office spaces are open to renters Monday through Friday, from 8 AM to 5 PM. The price of these spaces varies depending on their location, which you can view here.
How are virtual offices booked?
You can book an office for 16 hours or 40 hours at $275/mo and $400/mo, respectively. These plans also offer exceptional flexibility, whether you need virtual office services for a few hours daily or several days every month. Contact our professionals at (800) 589-3300 to create a customized booking to benefit your company's continued success.